Instagram
Click here to watch Videos
---
Colombian kids stand tall, thanks to surgeon.
By Claire Osborn
First reported, Austin American-Statesman, Tuesday, May 26, 2009
One woman walked eight hours to the hospital with her paralyzed son in a wheel-barrow. Another boy arrived with an unusual disease that required doctors to reinforce the weakened bones in his neck. Another child had a tuberculosis infection that paralyzed him.
Those are the kinds of cases that keep Austin spine surgeon Dr. Matthew Geck, 38 returning to Cali, Colombia. "If I fix the children, I can give them a more productive life," he said. "It makes me feel good, and it's a unique opportunity to be able to participate in people's lives."
Geck said his first trip to to Colombia, in 2005 with a medical mission organized by Dr. Steve Mardjetko, persuaded him to start his own nonprofit group to help children with spinal problems.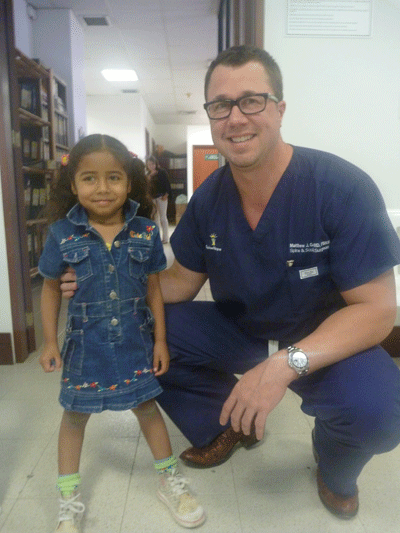 He said he saw children with severe cases of scoliosis - an abnormal curvature of the spine - who had never been treated. "Little kids were going paralyzed, and people were not even sure what was going on until we got down there," he said.
In 2007, he joined with another scoliosis surgeon, Tony Rinella of Chicago, Illinois, and Ethan Lauer of Houston Texas, the president of a neurodiagnostic testing and monitoring service, to launch SpineHope, which pays for free operations on children and teenagers in Colombia, trains local doctors, and brings children back to the United States if they need more complex spinal care. The children are chosen by another nonprofit in Colombia, he said.
Geck estimated that the nonprofit has raised about $5 million in goods and services, including about $4 million in surgical equipment donated by corporate sponsors. Geck and Rinella have done 50 operations since the group started.
On Friday, Geck left for his sixth trip to Colombia. During his weeklong visit to the Valle del Lili hospital in Cali, Geck said he will operate on 12 children, including an 8 year old girl whose twisted spine needs to be straightened with rods that must be lengthened as she grows. Geck said he will also operate on a 6 year old girl who has Morquio syndrome, a type of dwarfism that can cause underdeveloped neck bones.
Geck, who grew up in Wisconsin, said he has wanted to be a doctor since he was 6 years old. He spent a lot of time at the doctor's office because he had a chronic cough from asthma but did not get the correct diagnosis for years, he said.
He was accepted to medical school at age 17, but to become a more "well-rounded" person, he said, he got a philosophy degree at the University of Wisconsin before going to medical school. Geck said he moved to Austin in 2002 after a local doctor told him there was a lot of complex spinal work to do in the area. Married to actress Hili Park, Geck has two children and is the Co-Chief at Texas Spine & Scoliosis.
He said he wants the nonprofit to expand to Brazil and the Middle East.
Dell Children's Medical Center has also agreed to support the nonprofit by allowing Colombian children to stay at the hospital as patients at no charge, Geck said.
They boy whose mother delivered him in a wheelbarrow is now walking again, Geck said. He had severe scoliosis that Geck said he was able to correct.
"Children also write you better thank-you notes," Geck said. He keeps a picture of one on his laptop computer: a crayon drawing of a dog's face, with the words "muchas gracias."
---
For more information or to donate to SpineHope, go to SpineHope.org.