Previously-operated - Lumbar Fusion
Age at surgery: 49
Years out: 2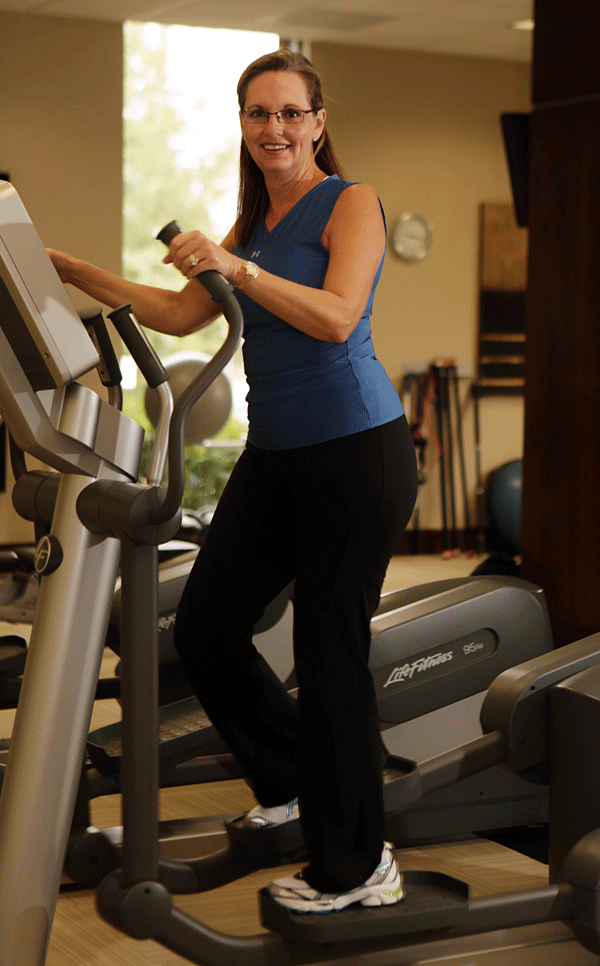 At the age of 49 years old, Sheila's life had been on hold for 3 years. A previous spine surgery had left her with continued leg and back pain. "I'm a very active person," says Sheila, "and I basically did not do much of anything. It was tortuous for me to not be able to pick up the grand kids, do yard work, or exercise." A family friend, a well known Central Texas neurosurgeon, looked at her case and referred her to Dr. Geck, an expert in spinal deformities and other kinds of complex spine problems.
Dr. Geck sat down with them in their first visit. He explained that she had failed lumbar surgery syndrome with components of flatback syndrome. He ordered additional tests and saw them back to review them.
"Sheila is a classic tough Texas lady who insists on being active," says Dr. Geck. "She had severe leg and back pain holding her back." Dr. Geck explained to Sheila and her husband Mike that she had not healed her previous fusion attempt, was a little "flat" or stooped in her lumbar spine, and also had residual nerve squeezing. "She really had many components of a failed surgery," says Dr. Geck.
In their counseling visits, Dr. Geck explained that a revision, or repeat surgery, could help her with her back and leg pain. After thinking it over, Sheila and Mike decided to go through with surgery. After extensive pre-operative work up, Dr. Geck then performed the surgery. Special cages were placed in her disc spaces and new rods and screws placed in the back of the spine. Old scar from the previous surgery was carefully removed off the nerve roots, and a residual bone spur removed. "It is important for these patients to get it right," says Dr. Geck. "This is your chance to make them better. In Sheila's case, we refused her levels in proper alignment that did not heal, and took pressure off the compressed nerves."
Sheila woke up with her leg pain gone. She left the hospital walking in 4 days. Months later, she was set free to full activities.
Now nothing seems to hold Sheila back. "I garden, I live on 7 ½ acres so the landscaping is amazing. I do all of the planting myself. I love to cook and I do glass fusing. I do clay pottering at the arts center once a week. I love to dance and go. I can do the elliptical for an hour, and I walk 6 miles a day."
Best of all, she can pick up the grandkids again. Future plans: "I'm semi retired, my husband is retired, but its time to start traveling."