Global and Focal Kyphosis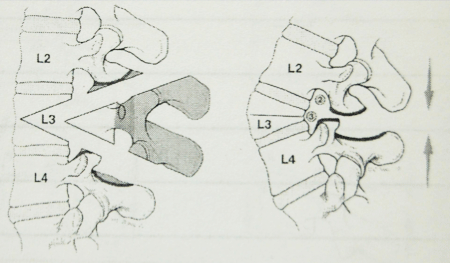 Adult Kyphosis, either stooping (global kyphosis) or roundback (focal kyphosis) can be caused be multiple factors. This can range from a Scheuermann's kyphosis or adolescent roundback that was never treated to the previously operated spine or scoliosis (flatback). In rare cases, previous fractures, congenital anomalies, inflammatory disorders, or neurologic disorders may play a role.
In adults, the risks of kyphosis surgeries can be significant. Initial treatment is focused on the symptoms of the kyphosis and is usually conservative. In the case of progressive disability, pain, and deformity, surgery may be helpful if the benefits outweigh the risks.
Case Study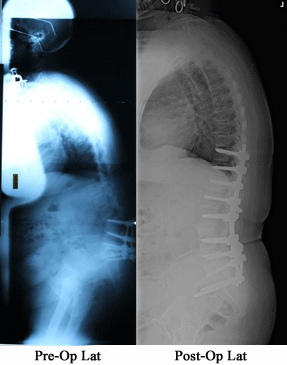 Adult Kyphosis
The following diagram shows what is done during procedure.
Pedicle subtraction osteotomy (PSO) is often an effective tool for the correction of Adult Kyphosis.
This 65 year old woman had multiple previous operations and was partially wheelchair bound with postlaminectomy dislocation of L2 on L3 and flatback syndrome.
After workup and medical clearance she had a L3 PSO with T10 to the pelvis intrumentation. She left the hospital in 5 days, and is now over one year out. She can stand straight, walk over a mile, garden, and has almost no limitations in her activities of daily living.