Vertebral Body Stapling
Most juvenile and adolescent idiopathic (genetic) scoliosis can be treated with observation and bracing. Patients who are candidates for brace treatment in particular has been the beneficiary of recent Level One (BRAIST) data asserting the effectiveness of bracing in controlling scoliosis up to 50% of the time compared to non braced patients. However, in patients in which bracing is not effective, or who are bracer intolerant. 
There are new minimally invasive procedures that are fusionless that can be used to treat patients with progressive scoliosis, brace resistant scoliosis, or brace intolerant children. Both access the spine through a tiny incisions (VATS) near the ribs and/or a minimally invasive lateral approach to the spine.
Vertebral Body Stapling uses a series of staples on one side of the vertebrae to correct scoliosis like braces on teeth
Vertebral Body Tethering uses a cable attached to one side of the vertebrae to correct and then control the curve.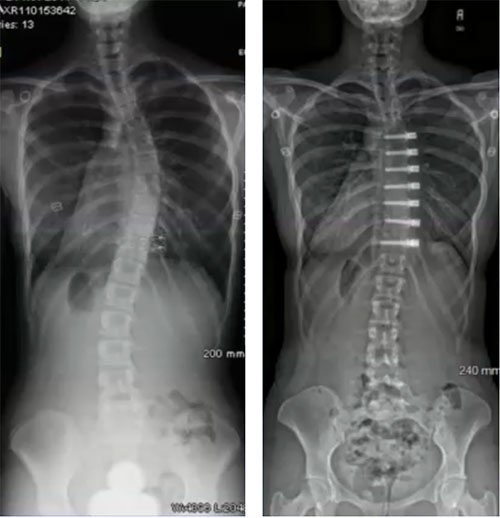 Both techniques work on one side of the curve to prevent it from worsening, and in the case vertebral body tethering actually offer the benefit of correction during the growth spurt. Sometimes it may be the only surgery needed. A second benefit of these fusionless, minimally invasive techniques is that they don't burn any bridges, and if necessary, more traditional corrective instrumentation can be used later on.
Vertebral Body Tethering is FDA approved as of the Fall of 2019. Dr. Matthew Geck and ScoliosisTexas have HDE/IRB approval and site approval to perform the Zimmer Vertebral Body Tethering System. In addition, we are an approved enrolling site for other tethering systems as well that my suit your child's situation better.
Vertebral body tethering system is indicated for skeletally immature patients that require surgical treatment to obtain and maintain correction of progressive idiopathic scoliosis, with a major Cobb angle of 35 to 65 degrees whose osseous structure is dimensionally adequate to accommodate screw fixation, as determined by radiographic imaging. Patients should have failed bracing and/or be intolerant to brace wear. The clinical data suggests Vertebral Body Tethering System provides benefit related to prevention of spinal curve progression and avoidance of spinal fusion.
Preserving long-term motion
"Vertebral body stapling is an innovative, minimally invasive approach that is an alternative therapy for early onset scoliosis," explains Dr. Geck. "What we're trying to do is to preserve the long-term motion of the spine."
The procedure, which was developed about eight years ago by orthopaedic surgeon James Ogilvie, M.D., of the University of Utah and brought into wider clinical use by Randal Betz, M.D., at Temple University in Philadelphia, involves placing staples along the vertebral growth plate to modulate the asymmetrical growth. By slowing the anterior growth of the spine, the lateral side can catch up. At the two-year follow-up of patients, 80 percent of the patients had either stabilized or improved. The best outcomes were among children 8 to 11 years old.
The best patients for vertebral body stapling have a curve between 25 degrees and 35 degrees in an age group of 8- to 11- year-olds. The staples are made of a substance called nitinol, a nickel-titanium alloy that has "shape memory." When they are cold, they can be in an open position for surgical implantation. When they warm to body temperature, they resume their original shape and clamp onto the vertebrae. "The metal flexes and allows for continued movement of the spine," said Dr. Geck. Even the most intense athletes can resume their activities after recovery. "Gymnasts can still do back handsprings," he said.
Dr. Geck is one of the early adopters of the new technique, and often uses it in combination with either VATS (video assisted thoracoscopic surgery, a minimally invasive approach to the thoracic spine) or and XLIF or DLIF approach (a extreme or far lateral minimally invasive approach to the lumbar spine). "To my mind, it makes more sense to combine minimally invasive surgical approaches with vertebral body stapling to minimize the impact on the patient's growing body," says Dr. Geck.
Still, vertebral body stapling is part of a continuum of modalities. Patient selection is critical, said Dr. Geck, scoliosis surgeon in Austin who serves the communities of Houston, Waco and San Antonio. "You have to pick the right candidate, the right curve and the right reason," he said. It is the most effective with curves from 25 degrees to 35 degrees. If the curve is greater, spinal fusion is still the treatment of choice, and mild curves may respond to bracing. In fact, a new genetic test (see ScoliScore genetics test) has been developed that can indicate necessity. "However, for these patients whose curve is too large for stapling, our minimally invasive scoliosis techniques may offer advantages over open scoliosis reconstruction."
Vertebral Staping & Tethering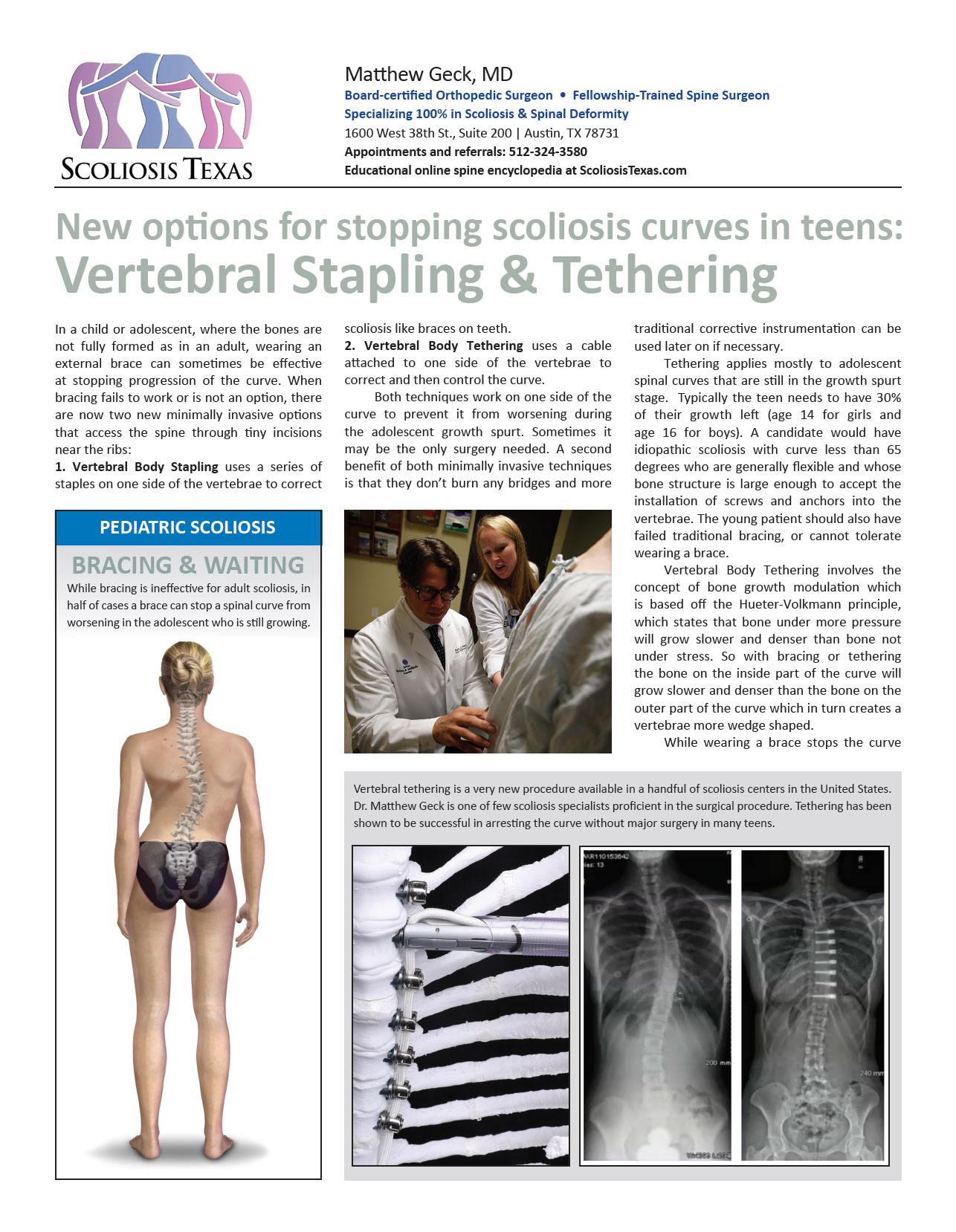 Patients also must be young enough to have a period of growth that can be impacted by the staples. "The earlier we detect it, the more options we have to get the progression of scoliosis under control with much higher success rates," Dr. Geck said. In about 20 percent of vertebral body stapling cases, the scoliosis continues to advance and spinal fusion is necessary. But this "failure" is among children who would otherwise have had spinal fusion anyway. Those with successful outcomes were able to avoid the more significant reconstructive fusion surgery.
Dr. Matthew Geck discusses benefits of Vertebral Body Stapling on KLBJ in Austin, Texas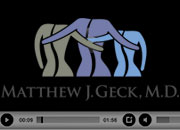 Click here or click the image to the left to listen to Dr. Geck talk with Perry Watson of KLBJ. This media clip used courtesy of Radio Station, 590KLBJ, in Austin,Texas.