Currently, in the high volume centers, spine and scoliosis surgery has a very high success rate using good indications, modern techniques, modern instrumentation, and focused medical management. However, many patients with a previously operated scoliosis or spine may have had an operation with an older technique, had a newly degenerative spine next to the previous operation, or fell in to the small percentage of patients who do not heal. These can be broken down into four general categories.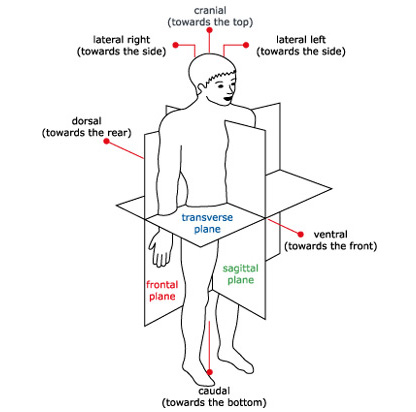 Flatback Syndrome: Historically, flatback syndrome referred to the use of a Harrington rod being used to treat a lumbar or double scoliosis. In this case, the distractive properties of the Harrington rod led to loss of lumbar lordosis. Patients initially did well, but as they aged, early spine degeneration, along with loss of hip range of motion, led to progressive stooping leading to an accelerated development of disability. Progressive stooping, back pain, and sometimes leg pain from bone spurs can be issues. These problems can form 10-50 years after the initial surgery.
More recently, flatback can occur from lumbar laminectomy or fusion surgery. In these cases the timeline is usually shorter. The other issues in previously operated spines can apply as well, such as non-union, and nerve pinching.
Non-Union: Using current techniques, chance of non union after a scoliosis or spine surgery is relatively low. However, older studies show it to be 10-30%. In these cases, either in the short term or long term, there can be pain, broken rods, progressive deformity, and new nerve pinching.
Nerve pinching/stenosis: In this situation, there is either residual nerve squeezing after the surgery or new nerve squeezing after the adjacent spine has degenerated.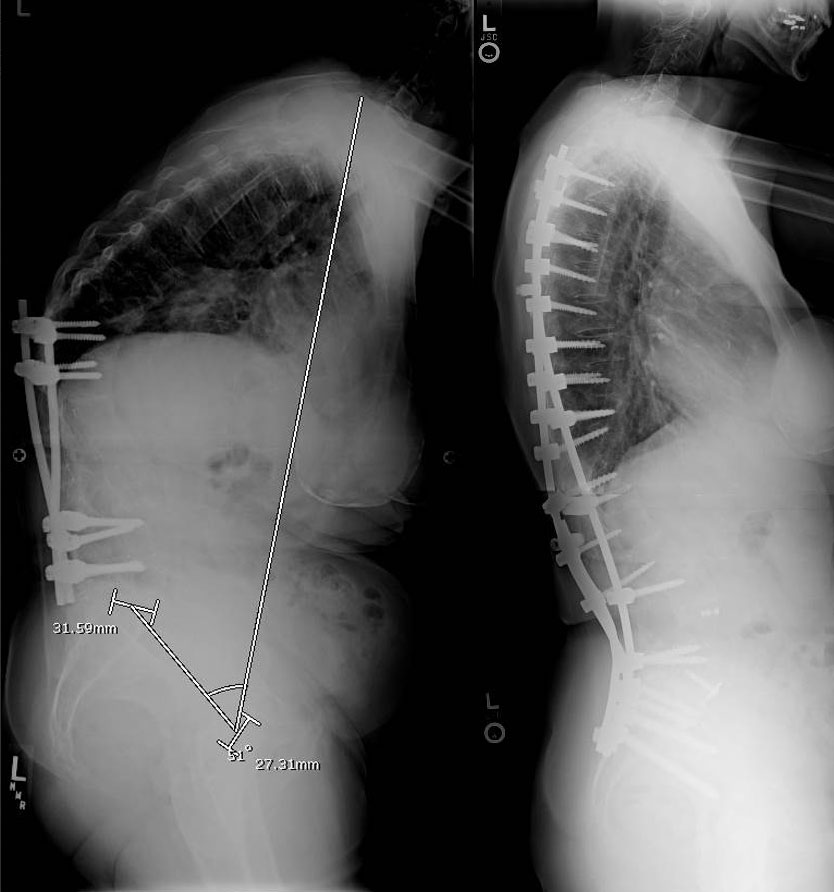 Junctional syndrome: In any type of scoliosis surgery, the risk of a junctional syndrome is present. In some cases this risk is extremely small (1%) such as in a teenager or young adult with a single right thoracic curve. In other cases this is very high, due to lack of surgeon experience with level selection (Lenke 1AR curves) or difficult curve types (selective fusion in a Lenke 3C curve in a teenager or young adult or a realignment surgery such as a subtraction osteotomy in an osteoporotic patient). This risk can be minimized with the surgical experience, technique, and level choice of the physician and some medical management issues.
In each of the cases above, there are often conservative treatments to try as long as there is evidence for effectiveness and no risk of permanent damage. These include either therapy, bracing, or injections. If these fail, surgery may be necessary. The complexity of revision or repeat surgery necessitates that the surgeon make sure that the spine is aligned, the spine heals properly, and all neural elements are protected and decompressed. Experience in revision surgery, including scar dissection, revision reconstruction, and osteotomy surgery, is important in these patients.
Click here to learn more about Flatback Syndrome.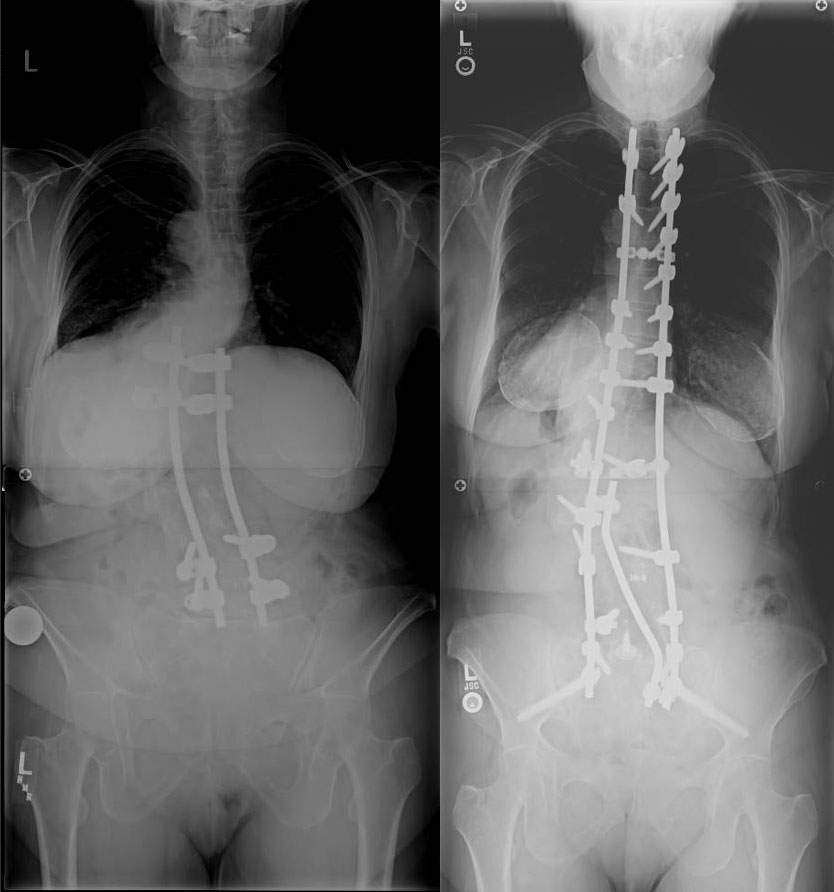 Case Study
Flatback from Harrington Rods
This 66 year old woman had a scoliosis fixed with CD rods when she was a teenager. She noticed over the previous 20 years progressive stooping forward, and severe physical pain and cosmetic deformity. She performed 6 weeks of Physical Therapy with our Spine Specialized physical therapist with no avail. Her diagnosis was severe flatback from lumbar kyphosis and thoracolumbar kyphosis. She was given a nutritional plan and a medical clearance, and in 2016 we performed a T3-Pelvis complex spinal reconstruction with posterior column osteotomies at T7-L1, and a 3 column Type 4 pedicle subtraction osteotomy at L4. 6 weeks later she had a 1.5 hour mini open anterior lumbar inter body fusion at L5S1 to additionally fuse this level.
2 years later, she can walk over 2 miles, rates her pain level as none, and her disability level as zero (VAS 0, ODI 0). She participates in fitness classes and a walking program, and lives independently alone.
Revision Surgery
Pediatric and Adolescent Patients
Given the advances in the field, an experienced surgeon should have very low complications in pediatric and adolescent patient group. However, many surgeries in the past have been performed with older instrumentation techniques such as Harrington rods, Cotrel Dubousset instruments, Luques rods and wires, or other reconstruction techniques.
Judging from multiple academic papers studying pediatric scoliosis surgeries, most surgeons who care for scoliosis patients perform less than 15 scoliosis procedures a year, leading to increased complications and worse patient outcomes than high volume surgeons. This lack of experience can lead to failed surgeries even using current techniques (WORLD NEUROSURGERY, https://doi.org/10.1016/j.wneu.2018.04.103). Other papers show a similar effect with adult scoliosis surgery, where the surgeons less experienced in complex spine had significantly more complications and worse outcomes compared to experienced surgeons (Lee et al. Medicine (2018) 97:34). This is not the case at ScoliosisTexas, where Dr. Geck has 20 years of experience and has performed more than 2500 scoliosis and other spinal deformity surgeries. In addition, we provide our actual quality data in our reporting section.
If a patient has problems after a scoliosis surgery, Dr. Geck has the experience to fix it, whether the issue is non healed fusion, recurrent or progressive deformity, residual inflammation or infection, or issues above or below the rods.
Adult Patients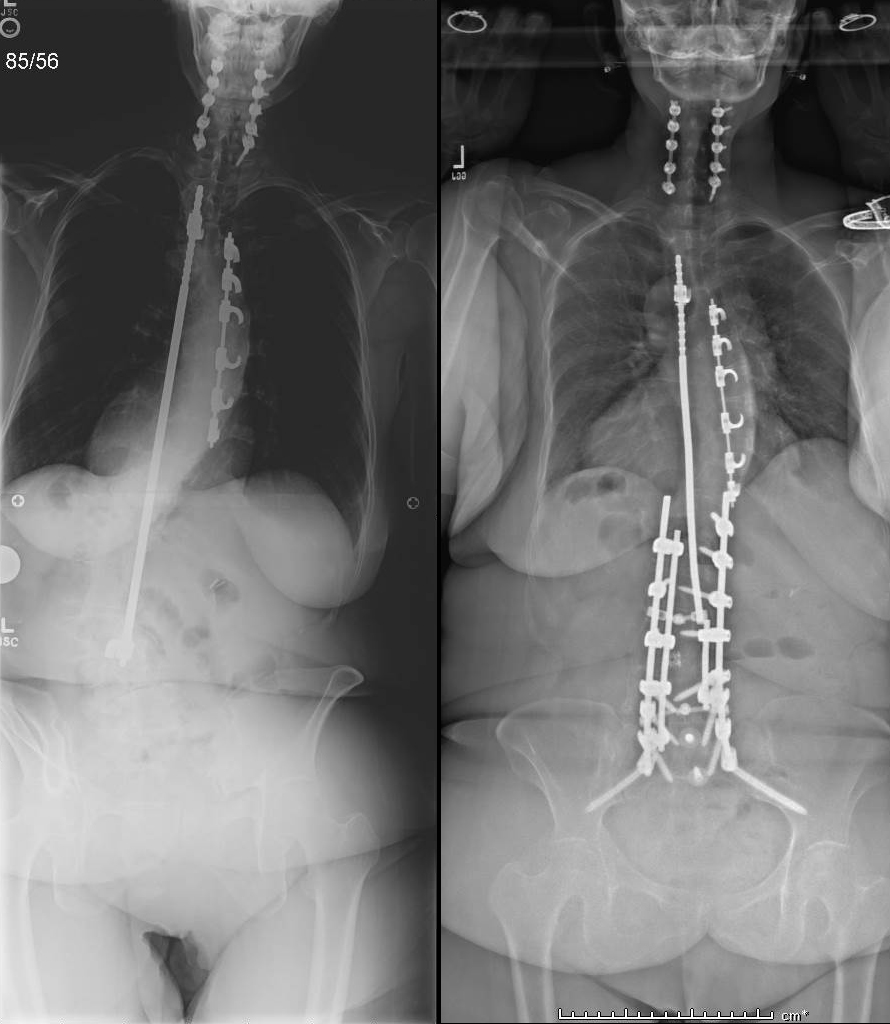 There are two groups of adult patients who may need revision surgery if they fail conservative treatment.
The first is the patient previously successfully of unsuccessfully treated for scoliosis, usually with Harrington rods, Cotrel Dubousset instruments, or a 3rd generation instrumentation. These patients, despite instrumentation failure, failure of fusion, suboptimal alignment (flatback), often life productive lives, until normal aging sets into their lumbar spine (low back). In these cases, what was a compensated issue can with time turn into a painful flatback in addition to the other issues.
The second is a patient previously treated primarily as an adult for either scoliosis or degenerative spine disease. These patients can get post-laminectomy syndrome, iatrogenic flatback syndrome, adjacent segment disease, non unions, or scar complicating their recovery.
In both of these situations, Dr. Geck has the experience to fix these failed surgeries and restore health related quality of life, reduce pain, and improve function. In these situations, more complicated surgical techniques may be needed.
Click here to learn more about Scoliosis Revision Surgery
Harrington Rods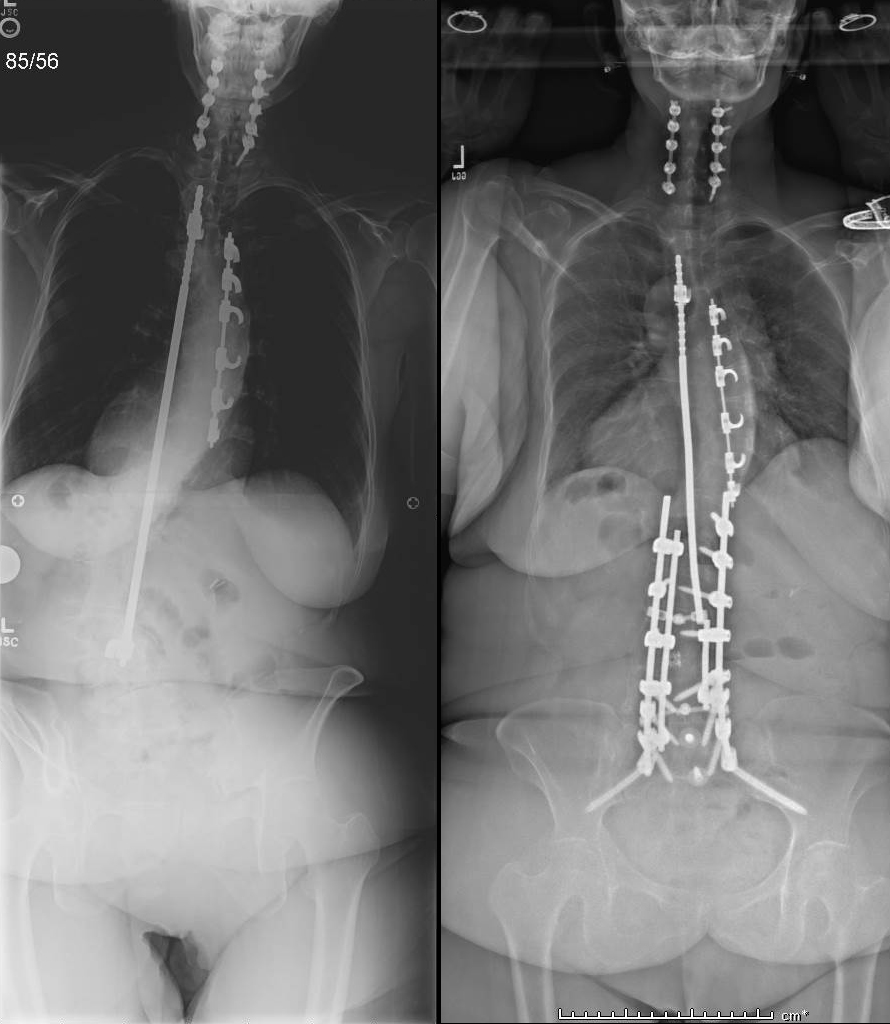 The Harrington rod was a stainless steel spinal instrument that was implanted in the patient along their spinal column to treat a curvature in their spine starting in the 1960s. Harrington rods were the most common tool used for scoliosis to treat instability and deformity of the spine from 1967 until about 1990.
It is estimated that around one million people had Harrington rods implanted because of scoliosis in its thirty-year history. Newer developments in medicine and medical technology have now made the Harrington rod obsolete. The Harrington rod and its successors are all centered around the same idea that the tools are only designed to temporary correct the curvature in the spine, but it is the actual healing of the spinal fusion which fixes the patient's condition. These rods have also been widely linked to the development of Flatback Syndrome in recipients.
Click here to learn more about Harrington Rods.